Amorgos, an island of the eastern Cyclades, the bridge to Dodecanese. In Amorgos of the endless blue, the mild maiden beauty, the very ancient history, in one of the most important centers of the cycladic civilization, in the island of the Panagia Chozoviotissa. On its very beautiful and clean beaches and the glittering sea, your soul and body shall be regenerated.
Following its paths, breathing the clean air and smellling wildflowers like "agioklima" and "nictolouloudo" will revive your feelings. Furthermore, you can get introduced to the great history of Amorgos by visiting its archaeological places and museum and the Byzantine monastery of Panagia.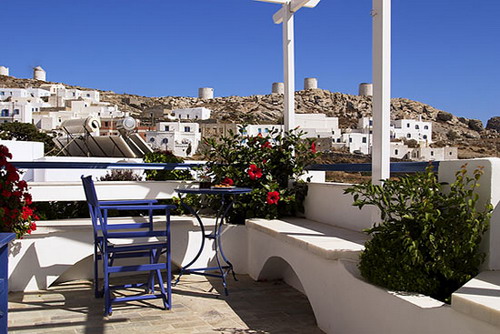 You will find our rooms in Chora, the snow-white capital of the island with the windmills, the imposing castle, the numerous churches, the picturesque paved narrow steets. You will stay into a newly-built house of traditional architecture which includes studios and twin-bed rooms. All, without exception, have bathroom, kitchenette, tv, veranda and are decorated with good taste. Some of them also have ac.
You will swim in the deep- blue sea and sunbathe on the alluring beaches of the south part of the island, you will taste traditional meals in the restaurants and have fun at night by listening to live music at Chora's cafes.