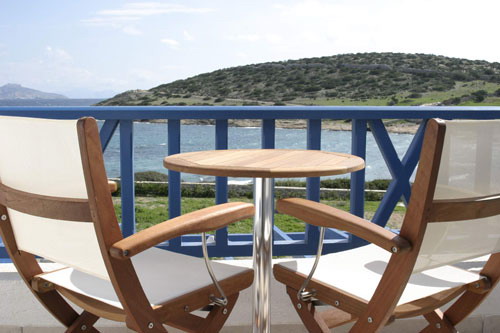 In the most picturesque gulf of Schinoussa in the beach of Liolos, in a calm and idyllic environment that gains you from the first moment is found the "LIOLIOU Beach Hotel".
Modern, graphic, magical with all the essential comforts that will offer you unique and unforgettable vacations.
The calmness of the country side, the sea in a distance of breathing, modern, organised but also very friendly environment that the personnel of "LIOLIOU Beach Hotel" create, makes you escape from the everyday routine and the stress creating recollections that will very soon bring you back to the island for sure.
The "LIOLIOU Beach Hotel" constitutes the ideal choice for those who seek the calm and the rest in an absolutely familial environment, which is expressed so much by the heat and the soft lines of the spaces of the group as by the friendly personnel that will ensure that you don't miss anything at her duration of your eve.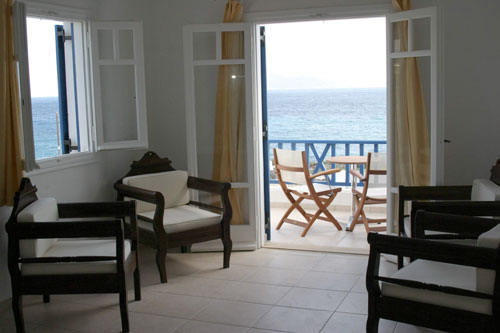 The group is constituted of 17 modern rooms that allocate all the essential comforts in order to make you feel at home.
There are three types of rooms in order to cover all your needs.
The classic double room with big comfort of space and traditional decoration, the two-bedroom room for bigger requirements and families with many members, with a living room and separate bedroom and the two-floors room with an internal scale that leads to the beds and a living room at the mainly space.
Each room gives the visitor its separate character and gives the possibility of living carefree vacations in a unique and warm place.
All the rooms allocate for your own service and entertainment the comforts and the extra services that you ask: They all have big balconies with unique view in the gulf
Giving absolute priority in the hygiene and the cleanness of the rooms and the communal spaces we take care that every each moment you feel certainty for the quality of your vacations and that your only thoughts be your resting and escape from the difficult everyday routine. Our installations and the eagerness of all our personnel to serve you ensures you about it.