Our last 20 years experience and a demonstration of our willingness to improve our services made us to build our new suites in an extraordinary location, in a place that is really a dream, only 1 km from Niborio beach and Chora, in a really quiet area!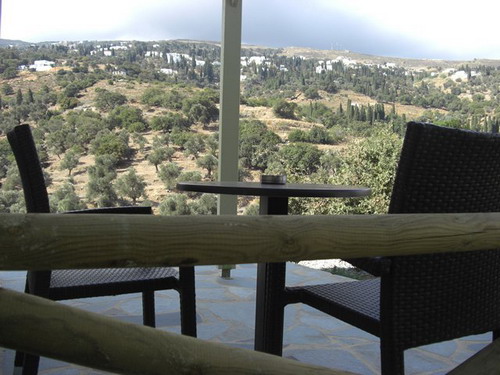 You may enjoy the most wonderful view of green mountain PETALO with the traditional villages of "LAMIRA", "STRAPOURIES", "MESATHOURI", "IPSILOU" as well as part of Chora and Aegean Sea. Silence and peaceful place makes Suites ideal for those who are interested in relaxation, comfort and pleasant staying! Everything is designed with great attention to details. By night, the atmosphere is really fantastic and you really hear the "sound" of silence!
In IRO suites we provide you with private parking area.
If you have a pet and want to bring it with you, let us know and we will inform you if it possible after communication.
Enjoy your breakfast in our open space area, in the serenity and tranquility of the peaceful background.
After knowing all that, you find it difficult to resist...don't you?
We certainly would...come along! Join us......!!!!!!