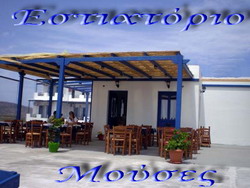 At the unique beach of Provatas, you are invited to taste the fresh fish and seafood from our boat, at a very beautiful and uniquely decorated restaurant, by the sea.
The Tavern "Muses" is welcoming you to an elegant and vividly Cycladic site, at Provatas beach, with magnificent view to the sea to treat you on a noble scale fresh fish, sun dried octopus, fresh calamari, shrimp-spaghetti, cuttlefishes and fresh salads.
All the fishes and the seafood are caught by us and all the vegetables we are using are coming from our fields. Each recipe is been prepared with pure ingredients, with the best cooking way and it's been served to you very attentively, in order to enjoy every bite of your meal.
Tavern "Muses" is just by the sea so you are able to enjoy your swimming and there is plenty of play ground for your children.
We are expecting you at "Muses" restaurant by the sea side to enjoy the best tastes of Milos.