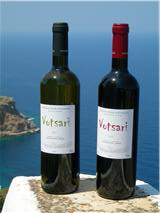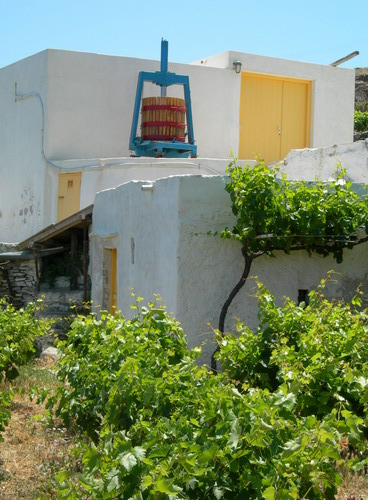 Our wine production activity in Sifnos Island had started 14 years ago, when for the first time we planted local varieties of white and red grapes. The next year we continued our planting activity and we increased our production to 2 hektars, in 5 different vineyards of the island. With the passing of the time we saw that the dry and hot climate of the island, the saltness of the sea, as well as the windy sides of the mountains, where we chose to cultivate our vineyards, were the most ideal conditions for our wine production. We started by following conditional cultivating methods, but quickly we understood that in the tough climate of the Cyclades we had to turn into more natural methods for our vineyards to thrive. Since then we are using the natural fertile treasure of the island, such as seaweeds and other products that we manufacture ourselves by exploiting the natural products of the island. We also spray our vineyards with nettle, garlic and other herbs. The result of those methods is to produce excellent first raw material. Therefore with less intrusions to the grape we are able to produce the 2 kinds of our wines.
The WHITE and the REDISH.
Our products stand out for their delicate aroma and their strong aftertaste. Our next goal is to create and offer to the market a new SUNDRIED, sweet wine, made according to the traditional methods of Sifnos. The production of our wine is made on our private winery, built and reconditioned in the northeast side of the island, so as to take advantage of the natural cool breeze of northerly winds, especially during the summer.